Heritage Trail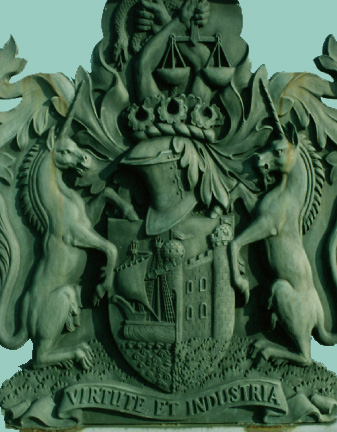 Bristol's Old Market Quarter is a unique area of the city. It is rich in heritage, but what makes it so special is that although the community has changed over the centuries, the area has kept its history and character intact. The purpose of this walking trail is to provide an introduction to Old Market and to encourage visitors to discover its past and to enjoy what this fascinating area has to offer in the present. The Old Market Quarter was one of the first parts of Bristol to be built around the Castle. Parts of the area today can be traced back to 900AD. It was the market district of the city and its original street layout has been preserved. Walking the streets will take you on a tour through the centuries, as each building offers fine examples of architecture from its relevant period. As the city grew, so did Old Market and during its heyday, many famous people visited and many events took place – from the greeting of visiting royals, to providing the backdrop for riots, harbouring pirates and attracting wealthy merchants. Over the years, Old Market has seen everything – from vice to virtue. In recent years Old Market has spawned its own rebirth as an independent destination with an eclectic mix of specialised shops, a wealth of clubs and pubs, its friendly Gay Village, one of the city's largest arts and music venues – the Trinity Centre – and new luxury apartments to house its fast expanding population. To find out more about the area and what's going on please visit www.oldmarketquarter.co.uk

1 St Matthias Park
Known in the eighteenth century as "Captain Parson's Field", this area of open land was formerly a burial ground. The Park, opened in 1886, was named after the nearby St Matthias Church (now demolished). Adjoining Champion Square commemorates the famous family of eighteenth century Bristol merchants.

2 The Volunteer Tavern
This charming tavern on the Southern side of New Street is one of the few surviving early eighteenth-century buildings in the area. Known as the Volunteer Tavern since at least 1871, it has recently been given a much needed face lift.  


3 Birthplace of Sir Thomas Lawrence (1769-1830)
Born in this fine Queen Anne house in 1769, "Tommy" as he was known locally, was a child prodigy who by the age of ten was already charging for his portraits. He went on to become the leading English portrait painter of the Regency period and President of the Royal Academy of Arts, London. Sir Walter Scott, Royalty and the fashionable elite were just a few of his subjects.


4 Amir Esmaeli's Gym
In his famous gym Amir and the Esmaeli family trained top Olympic, Commonwealth, MMA (Mixed Martial Arts), Rugby and Boxing athletes such as Glen Catley, Sid Lawrence, Ross Hale, Danny Bulter, Leon Rattigan, Ronnie Mann, Che Mills, Nigel Redman and Dean Francis. Amir passed away in 2005.

 
5 Central Hall
Opened in 1924 this huge building served as a Methodist Mission Hall. It was to act as '"an open door to provide a free and unconventional service to the masses of people who aimlessly wander the streets'". It regularly attracted congregations of over 2000 people. The vast interior hall (now demolished) had a domed circular roof, graceful galleries and a large central organ.

6  Old Market Tavern
A seventeenth-century building with Georgian additions, a tavern has existed on this site since the eighteenth century. The current Old Market Tavern was created in the 1970s when "The Bunch of Grapes" public house and the adjoining "Don Café" were knocked together.


7  Alderman Stevens' Almshouses and Hydra Books
Founded by Alderman Thomas Stevens in 1679 for the poor widows and daughters of freemen of the city. Damaged in the war, the historic almshouses were replaced by the present flats and shop in the 1950s. Hydra Books, a community bookshop and café , opened here in 2011. It specialises in'"radical'" literature on a wide range of subjects.

8  Trinity North
Trinity Almshouses and a hospital were founded on either side of Lawfords Gate by Alderman John Barstaple in the 1390s. Trinity North Almshouses were rebuilt in 1913 but incorporate a much earlier statue of their founder. The building is now private residences.


9  St Jude the Apostle
Built in 1844 on the site of the city's bullring to serve the rapidly growing population of St Philips. The church gave its name to the surrounding parish of St Jude's. Now converted into private residences, the exterior is decorated with amusing carved gargoyles.


10  The Palace Hotel
Bristol's finest Victorian pub, built in 1869 in anticipation of a new railway terminus that never came. The exterior is decorated with unusual Assyrian-style figures. The lavish interior retains many of its original features. In 2000 the building was restored by Thomas Brooman CBE, co-founder of WOMAD. It is now a cabaret bar.


11 Trinity Hospital Chapel & Almshouses
Founded by Alderman John Barstaple in the 1390s on the South side of Lawford's Gate. In 1574 Queen Elizabeth I was met here by the Mayor and Council at the start of her visit to the city. Rebuilt several times, the present buildings were built in the 1850s and 1880s.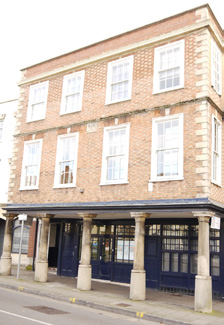 12 Kingsley Hall
Built in 1706, this fine brick building was restored in the late nineteenth century for use by the East Bristol Conservative Party. It was subsequently used as HQ of the Bristol Independent Labour Party, who named it after Charles Kingsley, famous priest, historian and novelist (1819-1875). The building is currently used by "1625 Independent People", a young people's charity.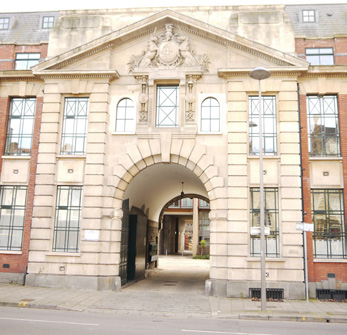 13 The Drill Hall
Built in 1912 for the 4th Battalion Gloucestershire Regiment on the site of a sugar warehouse and refinery. On15 July 1944 racial tensions between white and black American soldiers, stationed here, erupted into a brawl. The Drill Hall is now luxury apartments with a public walkway leading towards Temple Meads Station.
 
14 The Long Bar & No 68
The Long Bar is a fine example of a half-timbered merchant's house built around 1670. Once known as "The Three Horseshoes", it has been a tavern since the mid-eighteenth century. Next door, number 68 Old Market, was home to members of the Champion family, well known Quaker merchants, who owned important brass, zinc and porcelain factories in Bristol during the eighteenth century.
 
15 Stag and Hounds
Built as a wealthy merchant's house around 1670 but with fifteenth-century foundations. Inside are a fine oak staircase, a secret room with trapdoor and a remarkable Victorian water pump. The ancient Pie Poudre Court, which dealt out summary justice to market-day offenders, was proclaimed from this site from medieval times until 1971.
 
16 St Phillips and St Jacob
Historically the "'Mother church of East Bristol", this is one of the city's earliest buildings. Founded in the tenth century outside the city walls as a priory church, it was rebuilt by Robert, 1st Earl of Gloucester (d. 1147) and subsequently extended and altered. Of particular note are the Norman font and the fine barrel-vaulted ceiling made from oak granted by Richard II.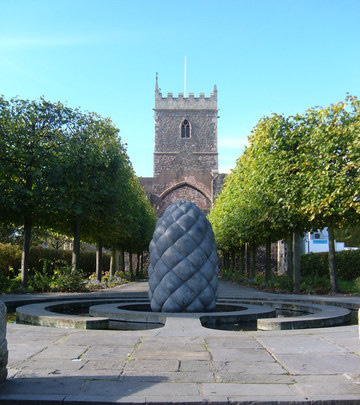 17  Castle Park
Built by the Normans, Bristol Castle was a massive structure home to a Norman garrison with a Keep comparable to that of the Tower of London. Oliver Cromwell decreed its destruction in 1655. Later, a thriving shopping area grew but in 1940, 135 aircraft bombed the area, causing fires which could be seen for tens of miles. In 1977 work on the modern park of today was started.

Above is the complete tour and on the left is Google translator which can convert this site into most languages. If you would like to pick up a copy of the map it is in most major outlets and tourist offices.
Below is the Map if you wish to print it off yourself.