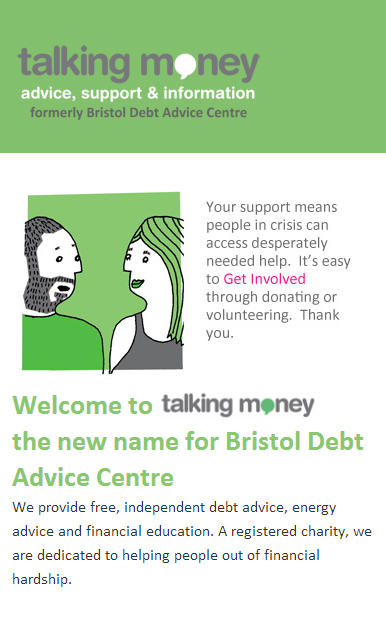 CONTACT
www.talkingmoney.org.uk
Tel: 0117 954 3990
Fax:0117 954 3992
email: mail@talkingmoney.org.uk
Our telephone lines are open for general enquiries:
Monday 9:30am – 5:00pm
Tuesday 9:30am – 5:00pm
Wednesday 1:00pm – 5:00pm
Thursday 9:30am – 5:00pm
Friday 9:30am – 5:00pm
You can see an adviser at any time during our opening hours. .
Bus Information
The following buses come down Old Market or West St:
6/6a, 7, 24, 26, 36, 41, 48, 49, x 67, 99
.
Parking
Available at Gardiner Haskins, off Midland Road, also Cabot Circus Car Park at the end of the M32 off Newfoundland Street. There is very limited street parking, under special circumstances we may be able to provide a space in the Hide Market car park.
The building is wheelchair accessible.